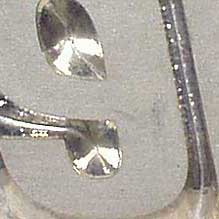 A & G Engraving specializes in letterpress engravings! We can provide all of your film requirements, negatives and positives produced same day.
Get a FREE PRICE QUOTE. No job too small, special prices for larger jobs.
A & G Engraving, Inc., Southern California's largest photoengraver, manufactures the highest quality photoengraving of magnesium dies, copper dies. Please view our sampling of our foil stamping dies, hot stamping dies, embossing dies, and rubber stamp masters.
Hablamos Español